Executive summary:
MASTUL Foundation would like to distribute food buckets that last a month to 100 underprivileged families. The cost of one food bucket that lasts a month is 2000 taka. Therefore, the total budget to feed 100 families for one month is 200,000 taka.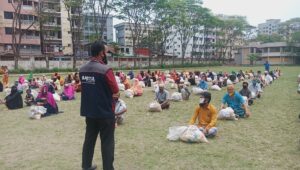 Statement of the problem:
Bangladesh is doing great compared to the state that it was just a few decades ago. However, as a result of corona, people are not able to work. They are not able to feed their families.
Hunger is excruciating pain and a child does not deserve such a test. Neither does anyone else for that matter.
Strategy
MASTUL Foundation has a well-laid plan for implementing the Project with total transparency, objectivity, fairness and trustworthiness. Considering the vitality of the project, yet also its intensity, we have pre-planned all modes of distribution, logistics and casual help beforehand so as to retain its vitality.
LOGISTICS
We have volunteers and transport that can fully accommodate the bulk of food that we want to move, safely and in time, well maintained in a clean and sanitary condition to protect food from any contamination.
Ethics
We will keep the food distribution confidential for some of the people we are to help who come from a proud working-class background as they do not like being seen taking food from others to survive.
Evaluation
MASTUL foundation set a standard to measure the performance of its entire project in the strategy formulation stage. At the end of a project, its Deviance from the estimated result on the basis of standard and error faced at the project will be highlighted. Necessary measures will be taken to avoid this kind of fault in the future.
Experience of the Context
MASTUL Foundation has a long history of social work. Since the incorporation of the organization in 2013, the organization is tirelessly working to provide support to destitute people. Around 47000 people have benefited from the various projects of the MASTUL foundation. We have worked in Cox's Bazar with the Rohingya people and we have built them tube-wells, shelters and child-friendly zones. As for Dhaka, we have empowered several families and established schools, orphanages, mosques and much more.
Executing the distribution project will be very easy for us in Dhaka as we already have the infrastructure and system necessary for the distribution of food to the underprivileged.
So far, MASTUL foundation has given out relief to 17000+ people and 23,000+ people have received food supplies for their families during corona. So we are fully capable to operate this project.
To Get Involved
MASTUL receives program donations or sponsorship amounts through Cash or Bank. In case of any donation or sponsorship we would like you to contact us.
Social Media Pages: Facebook: www.fb.com/mastulfoundation
Bkash (Payment)- 01730482278
নগদ (Payment)- 01730482279
contact and Bkash (send money)- 01730482281
Project Officer number-01302947481
Donate to  https://www.mastul.net/donate/
Facebook Page: https://www.facebook.com/MastulFoundation/