Free oxygen service
What is the "Free Oxygen Project"?
MASTUL Foundation's Free Oxygen Project is dedicated to the patients of Corona (or other diseases) who do not have the wealth and the ability to afford support.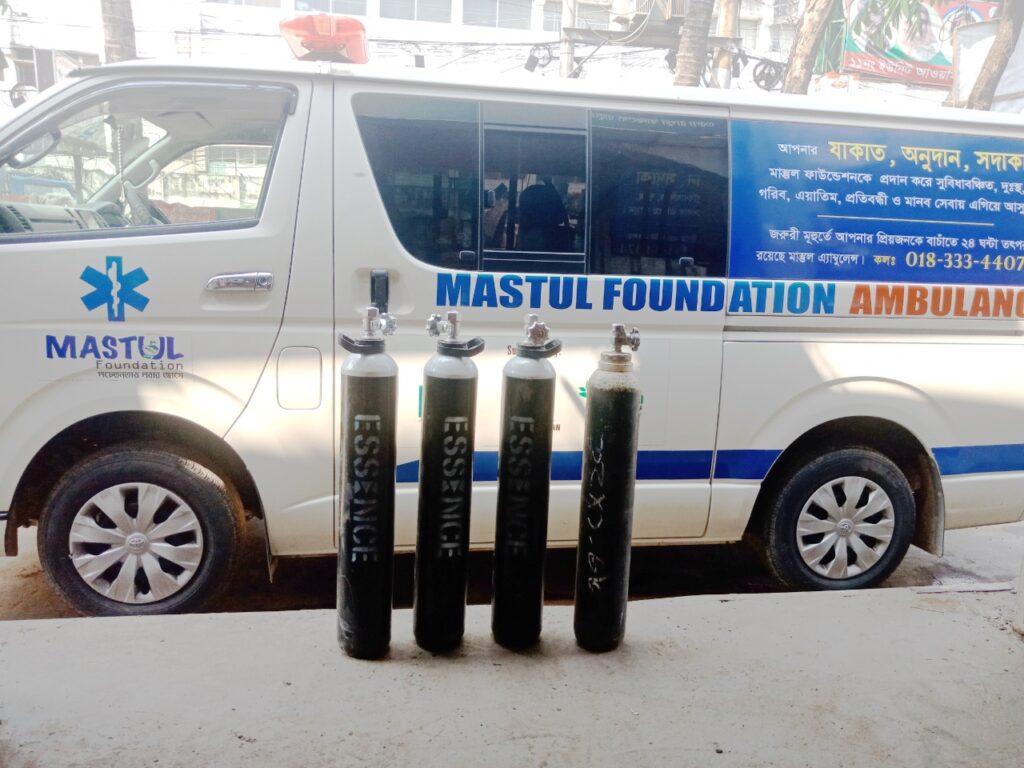 The MASTUL volunteers move across the country to pick up people infected by corona. Our ambulances move across the country and the journeys are often long. As a result, long durations of oxygen supply become necessary.

We soon realized that it is not only the corona patients who are deprived of oxygen and ambulance service. As a matter of fact, countless people in Bangladesh are too poor to afford it and they live in very hard-to-reach places.

So, We provide free ambulance and oxygen service to poor people too. It's an unbearable tragedy to see people die only because they were not recipients of instant measures of prevention and treatment.
Problem Statement of Need Assessment
Corona Patients
The outbreak of Corona has led to countless deaths across the country. It is a contagious virus that spreads easily. The victims of Corona die a painful death within a short time of contraction. It is truly a horrendous disease that devastates families.

As a result of the impact of Coronavirus, the need for ambulance and oxygen service has increased phenomenally in the underprivileged communities of Bangladesh
People simply do not have the means for oxygen or ambulance service. When a person is contaminated by Corona, most people refuse to deal with the situation. So there is little support from the community when it comes to handling corona patients.

It is difficult to lead the people of society out of their misconceptions and ignorance that result from fear. And it is even harder to travel with Corona patients in any location that is inhabited by people who are scared of Corona.
Poor People
Our country is on its way to competing with developed countries and it is showing rapid progress in economic growth. However, we still have people in our country who are unable to earn enough money to buy one meal a day, let alone support a family.

The poor people of Bangladesh may not have much but they have their rights and that can be a powerful tool for equality. The assistance of corona patients should not be the matter of how much wealth you have but rather, it should be a God-given right.

Sadly, many people with low incomes do not have the means of hiring ambulances and paying for oxygen. It is a serious matter that goes beyond sorrow that families have to bear all their lives. The issue is one that needs rapid response as the suffering of corona patients increases rapidly.

Objective
Give oxygen service to corona patients
MASTUL Foundation dedicates itself to stand by the side of all who are in distress. We want to give every person a chance to survive by providing a rapid response.

We have thousands of volunteers fearless when it comes to assisting corona patients physically. On top of that, we have ambulances that can travel across the country. Now all that we need is oxygen cylinders as the long journeys in ambulances can be very difficult for corona patients.

Give oxygen service to patients with other diseases
Our objective is to provide support to corona patients as long as the pandemic is killing people. But we know that there will be a time when the corona pandemic is over. When that time comes, we will provide the ambulance and oxygen service to patients with critical diseases for free.
Providing oxygen service to the children.
MASTUL started its journey with children and it will be this way as long as MASTUL is alive. We will prioritize the needs of children when it comes to providing oxygen in cases of emergencies.
Providing oxygen service to the poor.
MASTUL Foundation has always been a strong pillar that supports thousands of people who live under the poverty line. When there is a person who needs the free ambulance and oxygen service but is not able to afford it, MASTUL will provide free ambulance and oxygen service to anyone who needs it and it will have nothing to do with how much the person earns. Rather, it is going to be based on the urgency of the situation.
How does the free oxygen service help?
The free oxygen service project is playing and will continue playing a major role in the rapid response to corona. It ensures the safe and hygienic support of corona patients who are in pain. It also plays a vital role in the rapid response to other diseases. Finally, through the free oxygen service, we are able to assist the poor when they cannot afford oxygen and ambulance service.
Project services
Providing ambulance and oxygen support to the sick and especially people with symptoms of Covid19.
Provide free of cost oxygen and ambulance services to poor families.
Support us
The people who are suffering from corona need oxygen. It eases suffering and It might be the decider of life. Please be by the side of the MASTUL Foundation when it comes to delivering oxygen to people who need it the most.

Get Involved
MASTUL receives program donations or sponsorship amounts through Cash or Bank. In case of any donation or sponsorship, we would like you to contact us.
Contact Information
You can get connected with MASTUL in a number of ways. Visiting us at our office, giving us a knock at our social media pages (Facebook and website) giving us a call, or last but not least, sending us an email. Below our contact information is mentioned:
MASTUL Office Address: MASTUL Foundation, 244/ka, Nimtola, Sultanganj Road, West Dhanmondi, Dhaka 1209
Call us at: +8801730482279
Project Coordinator: +8801730482278
Email address: mastulfoundation@gmail.com
Website: www.mastul.netSocial Media Pages: Facebook: www.fb.com/mastulfoundation
Donation
Your Donation has the power to transform lives, from sheltering those who have no home, to feeding families who have endured hunger for days on end. Please, donate your Zakat/Sadaqah where the need is greatest.
Once you have calculated your Zakat/Sadaqah, or you already know what your owed amount is, you can choose to make your donation through MASTUL Foundation. Doing so will support our appeals, helping thousands of innocent lives living in poverty around the Community.