MASTUL Burial Funeral Service
OVERVIEW
MASTUL Foundation and its brave volunteers perform the last rights of the dearly departed. We also perform the same service for those who can afford a funeral. Support us!
LAUNCHED
April 2020
PROJECT TYPE
Humanity
Funeral
Introduction
MASTUL Foundation and its brave volunteers perform the last rights of the dearly departed. We also perform the same service for those who can afford a funeral. The death of a loved one can be traumatic for relatives as a result of an incomplete farewell. Families desperately want their loved ones to rest in peace. In Islam and many other religions, the way to achieve this is by a performance of the last rights.
MASTUL Foundation and its countless supporters are sympathetic towards this issue. We are here to conduct and oversee respectful and hygienic burials.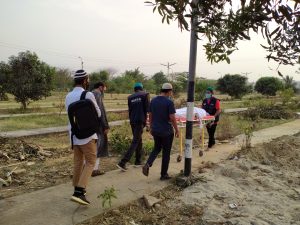 Why Is The Funeral Project Important?
Problem
The scary thing is that the dead body of a person who died from any diseases can infect others. As a result, fear and paranoia have spread among the people of Bangladesh. Many refuse to perform the last rights of a death person specially who died in a disease as it entails coming in contact with a potentially infectious source. There have been many cases where dead bodies were left out in the open on the streets. It shows the reluctance to handle the bodies even if it is a family member. Bangladesh is a Muslim majority country where people firmly believe in performing the last rights. It gives families the strength that they need to move on with their lives. If a dead person is not allowed to receive a proper farewell, it spreads pain and suffering among family members that last a lifetime.
Solution
MASTUL Foundation's Burial Funeral Project is the solution to the psychological trauma that Muslim families have to go through when a loved one is lost. We take it as our duty to console the distressed and give them hope. There is no reason to be scared of organizing funerals if all the right safety measures are observed. It is the right thing to do not only to comply with religion but also with safety standards. The proper burial of a person gets rid of all chances of any disease spreading.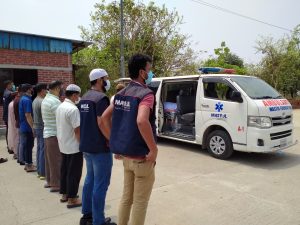 Safety Measures
Once we hear about someone who has passed away, we send over our volunteers in an ambulance that our loving supporters have given us. All volunteers take the proper safety measures and they are always extra careful as they have families to protect.
Once the last rights are performed upholding religious sanctity, the ambulance and the burial site are disinfected.
If not for the brave volunteers of MASTUL, Muslim families would not be able to move on, and they would feel wronged deep down inside.
What Services We Provide For Free
Management Of Dead Bodies
People are scared to handle dead bodies as they do not want to get infected. As a result, the need for dead body management is at its peak. The volunteers of the MASTUL Foundation take all the necessary safety measures while handling bodies that require burial.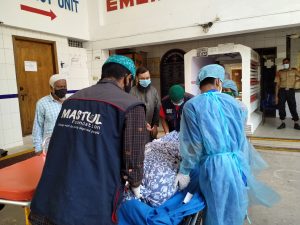 Religious Funeral Services
Once a person dies, steps are taken to console the deceased's family spiritually. Loved once come together and pray for the dearly departed. Upholding these religious norms is very important to the family. So we provide religious funerals regardless.
Religious Funerals For Unclaimed Corpses
Sometimes families do not even come forth to claim the dead bodies. However, leaving these bodies exposed and unburied poses a greater threat of spreading any disease than a safe burial. For this reason, we not only bury unclaimed corpses but also perform religious funerals. After all, everyone deserves a prayer and moment of silence regardless of what the person was like or what religion they belonged to.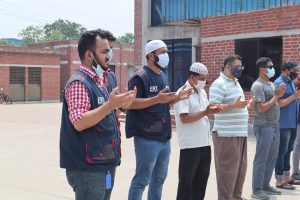 Free Ambulance Service For The Poor
MASTUL Foundation started the funeral project. However, we cannot help but notice the countless families who cannot afford a proper funeral for their loved ones. For this reason, we offer our free ambulance service to poor people who lost someone close to their hearts.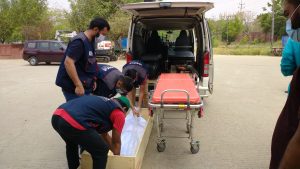 Support Us
MASTUL Foundation is doing all that is possible with limited resources. However, there is still so much to be done. People die from Corona daily, and the number of families who cannot afford a funeral for their dearly departed is shocking. To tackle the scale of the unfortunate problem at hand, we need a few more ambulances. Also, the vehicle that we currently have requires regular maintenance and fuel for long trips to go and get bodies.
As donors, you are the ones who made MASTUL Foundation's Funeral Project a dream come true. You believed in us in our struggle to uphold equality, human rights, and the safety of people even when the odds were against us. Please keep us in your loving heart. We need your donations to continue helping society to be safe from the spread of disease. We need you to be able to perform funerals for the poor or those deemed taboo. It is because of you that we can console the loved ones of the deceased so that they can move on in life as Allah intended. May Allah Be with us all. Donate at your earliest convenience.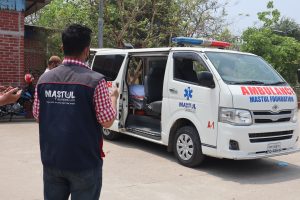 Donation
Your Donation has the power to transform lives, from sheltering those who have no home, to feeding families who have endured hunger for days on end. Please, donate your Zakat/Sadaqah where the need is greatest.
Once you have calculated your Zakat/Sadaqah, or you already know what your owed amount is, you can choose to make your donation through MASTUL Foundation. Doing so will support our appeals, helping thousands of innocent lives living in poverty around the Community.