MASTUL Foundation plans to distribute Sacrificial Meat in  Bamna, Borguna on Eid-ul-Azha
---
MASTUL Foundation
|
June 13, 2023
In an effort to alleviate the suffering of underprivileged communities during the auspicious occasion of Eid-ul-Azha, MASTUL Foundation has announced its decision to provide sacrificial meat to the less developed areas of Bamna, Borguna. This initiative comes after a survey conducted by the MASTUL Foundation revealed the relatively lower development levels in these regions.
Recognizing the significance of Eid-ul-Azha, a festival that holds great religious and cultural importance for Muslims worldwide, MASTUL Foundation aims to ensure that individuals and families in economically disadvantaged areas can partake in the joyous occasion by providing them with high-quality, nutritious meat.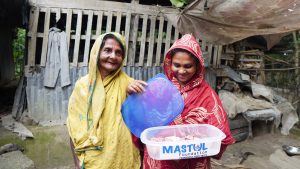 The foundation's decision to focus on Bamna, Borguna was based on the findings of a thorough survey, which highlighted the comparatively lower development indicators in these areas. By targeting underdeveloped regions, MASTUL Foundation seeks to address the pressing needs of the local population, particularly during this festive season.
Through the generosity of donors and the dedication of volunteers, MASTUL Foundation plans to distribute sacrificial meat packages to households in Bamna, Borguna. These packages will contain fresh, hygienically processed meat, ensuring that families in need can enjoy a hearty meal during Eid-ul-Azha.
MASTUL Foundation's mission has always been to uplift disadvantaged communities by providing essential services and support. By extending their efforts to the underdeveloped areas they aim to bridge the gap and ensure that no one is left behind in the celebrations of Eid-ul-Azha.
The foundation encourages individuals and organizations to contribute to this noble cause by donating to the MASTUL Foundation Eid Meat Distribution Fund. Every contribution will go a long way in bringing happiness and relief to the less fortunate residents of Bamna, Borguna.