MASTUL Foundation's Eid ul Azha Initiative: Sharing Blessings through Meat Donations and Free Food Packages
---
MASTUL Foundation
|
June 8, 2023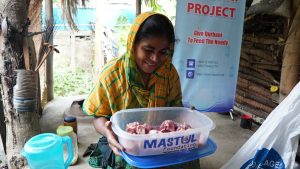 Eid-Ul-Azha is the festival of sacrifice.  Inspiring with this Motto the humanitarian organisationMASTUL Foundation plans to extend its unwavering support to the less fortunate people. With the commitment to uplifting the underprivileged community, MASTUL has taken this noble initiative. The key plan is to provide all the essential assistance for this auspicious occasion like the previous years.
Overall, MASTUL aims to stand in solidarity with those in need by distributing sacrificial meat, raw meats, and cooked meats.  The founder and Executive Director of MASTUl Mr Kazi Reaz Rahman states, " We seek to bring joy and nourishment to those people facing economic hardship. Apart from this, we will also give free food packages and essential commodities to those people in need." "We want to make a tangible impact on the less privileged members of society." he also added. 
The devoted volunteers of the MASTUL will reach diverse communities, shelter homes, and marginalized areas. The target of this overall selfless endeavour is to stand as a beacon of hope to the helpless people.