Mumtahina Hasnat Ritu, President News Broadcast Alliance NBA & Senior News Presenter NTV visited at MASTUL Mehmankhana during Ramadan
---
MASTUL Foundation
|
April 29, 2023
Throughout the entire Ramadan MASTUL Foundation carried out the free iftar distribution campaign named "Iftar for All." The main goal of this program was to give needy persons in need a satisfying supper after their entire day of fasting. The important thing to remember is that every day at MASTUL Mehmankhana, 500 poor and helpless people had the opportunity to eat free iftar.
Additionally, during the holy month of Ramadan, a sizable number of reputable individuals and social influencers visited MASTUL Mehmankhana in an effort to speed up the program. Their presence added extra value and worked as a tremendous source of inspiration.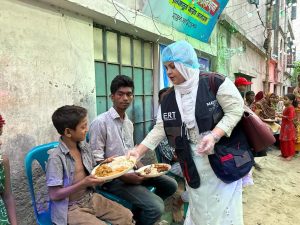 Especially, the visit of Mumtahina Hasnat Ritu, President of News Broadcast Alliance NBA & Senior News Presenter NTV was one of the landmark visits.
She was also delighted after coming to the Mehmankhana. Soon after arriving, she began packaging food and distributing it to the presented beneficiaries.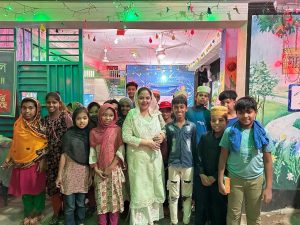 "I am very happy to visit MASTUL Mehmankhana, and this is a wonderful chance to share iftar with everyone. " Mumtahina Hasnat Ritu said. "I really believe that if we have the objective to do some social welfare, we can do it anyway, no matter how obstacles we would face," she added.  She also visited the MASTUL School and the Shelter house and spent time with the students there.