State Minister of Social Welfare attends "Iftar For All program" hosted by MASTUL Foundation 
---
MASTUL Foundation
|
April 13, 2023
Free Iftar distribution for the needy as part of the MASTUL Mehmankhna campaign throughout the holy Ramadan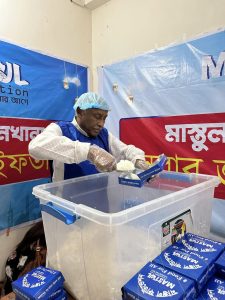 State Minister of Social Welfare Mr Ashraf Ali Khan Khasru attended the free iftar distribution program by the MASTUL Foundation named the "Iftar for All" campaign.  After his arrival, he gave his hands to prepare the food packs and later he distributed these packs to the presented beneficiaries. 
Just before the iftar he also inaugurated the MASTUL Sewing Training Centre and handed over a donation of cheques to a disabled person of MASTUL AID.
… And definitely, his landmark visit became a part of the inspiration both for the host as well as the beneficiaries.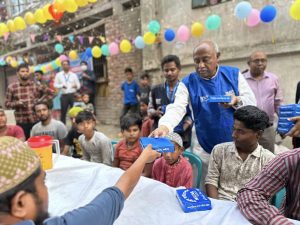 The thing to note is that the MASTUL Foundation is carrying out this mentioned free iftar campaign since the first day of Ramadan. Here a massive number of poor people can ensure a decent meal after an entire day of fasting. The founder of MASSTUL Foundation Mr Kazi Reaz Rahman also informed the other projects of this humanitarian organization.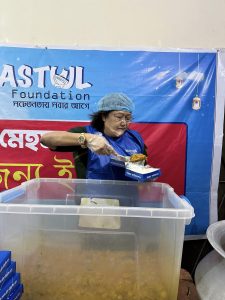 Honourable State of Minister Mr Ashraf Ali Khan Khasru highly appreciated MASTUL for this Nobel initiative. He expressed his pride to attend such a program.  Also, he expressed his ultimate gratitude to the volunteers and the associated partners who greatly contribute to the success of delivering the items to the beneficiaries.