Students of MASTUL School witness a mind-blowing fruit festival sponsored by Rotary District 3281 at their school premises. 
---
MASTUL Foundation
|
June 4, 2023
Rotary District 3281 organizes a fruit festival to promote local fruits to the little angels of MASTUL School. The key perspective of the festival is to illustrate is to raise awareness about seasonal fruits. Besides this, the students will learn about their health benefits. Past District Governor Safina Rahman was the honourable chief guest. 
The festival showcased a variety of indigenous fruits, each with its unique taste and nutritional advantages. Among the fruits featured were Sapodilla, Carambola, Cowa, velvet apple, Christ's thorn, mango, Black plum, and jackfruit. The children roamed around the colourful displays. Because they had the opportunity to learn about each fruit's benefits from knowledgeable volunteers and experts.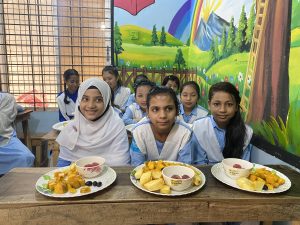 As the children explored the fruit displays, they were encouraged to sample the various fruits.   Also, they experience their flavours firsthand. "Promoting healthy eating habits among children is vital for their overall well-being," expressed Past District Governor Safina Rahman. "By showcasing and educating them about our local fruits, we hope to make a sense of pride and appreciation for our rich culinary heritage."