MASTUL Foundation hosts privileged child's birthday
---
MASTUL Foundation
|
May 27, 2023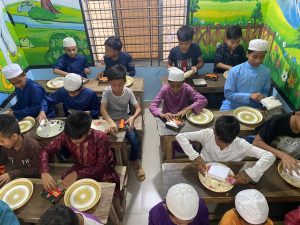 A kind woman celebrated her beloved daughter's birthday at the MASTUL Foundation shelter home. She was delighted to see the overall activities of MASTUL on Social Media and decided to arrange a meal for them on the wonderful occasion.
The event took place at the MASTUL shelter home. The children were thrilled to have such a scrumptious meal after a long time and enjoyed it to the fullest. During the dinner, the woman shared her feelings with us. She has never been more satisfied until now she said.
The children's happy faces moved her while they eagerly enjoyed the meal." I was going back and forth with the decision to celebrate my daughter's birthday here, said the compassionate woman,  but I enjoyed witnessing it firsthand much more than I anticipated" she added. MASTUL  Foundation took great pleasure in hosting the kind woman's daughter's birthday and is thankful for the wonderful gesture.