Baridhara Society makes a donation for ten thousand people through Mastul Foundation
---
MASTUL Foundation
|
April 10, 2023
Considering social responsibility, Baridhara Society forward their helping hand to the poor and needy people. Yes, this is not their first time standing next to helpless people. But this term they are providing this donation through the MASTUL Foundation.  Because their target is to reach more beneficiaries during this holy Ramadan and MASTUL is such a platform to engage with more poor and helpless people.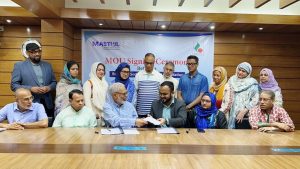 The Chairman of the Baridhara Society Firoz M Hasan provided a 4 lacks Taka cheque to the Executive Director of the MASTUL Foundation.  Firoz M Hasan said, " It is our duty to make some positive impact on society".  Another thing to mention is that this year MASTUL is targeting to provide free iftar for almost 1 lakh needy people under their "Iftar for All" program.
The founder of the MASTUL Foundation Kazi Reaz said, "We already provide free iftar to almost 30 thousand people. But we are now facing a massive challenge to fill our target. However, at that critical time, we are getting the Baridhara society next to us. This donation will help us carry out our "Iftar for All" program.