Corona Update From Head of Volunteers, Raihan Rahman
---
Mastul Foundation
|
July 29, 2021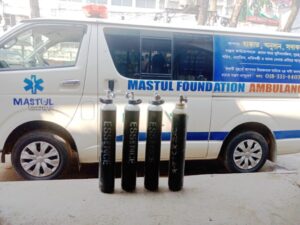 The corona pandemic is not getting any better in Bangladesh. An average of 250 people dies on a daily basis. During this pandemic, we see the government, hospitals, and other organizations doing the best they can with exhausting resources. Oxygen has been in high demand and many people have not been able to receive oxygen that could have saved them. MASTUL Foundation has been very active during the corona pandemic and it has brought the nonprofit organization under the spotlight. Let's take a look at what the head of volunteers, Raihan Rahman had to say about the corona pandemic from his own experience.
"We are giving free ambulance, oxygen, and funeral service to the people of Bangladesh. We got a lot of oxygen from the Edison Foundation, City Bank, and Bdesh Foundation. With that, we are able to provide free oxygen but the demand is very high for both free ambulance and oxygen service. We used to get around 10 calls for oxygen per day. That number has been dubbed now".
Raihan Rahman has personally performed funerals for corona victims and he is always on the move. We hope that he and his team are able to meet the demand for oxygen supply.