MASTUL Foundation and r-pac collaboratively organised an event on Girls Scholarship Program 2023
---
MASTUL Foundation
|
May 21, 2023
Educating female students is the first requirement for women's empowerment. Inspired by this motto, the MASTUL Foundation and r-pac collaborated to undertake several initiatives aimed at supporting underprivileged girls and ensuring their access to education. To celebrate their joint efforts and accomplishments, an event was organized on May 20, 2023.
The event was thoughtfully categorized into different segments, each focusing on different aspects of supporting female students and promoting their education. One of the highlights of the event was the annual scholarship distribution by r-pac. As in previous years, r-pac generously provided free scholarships to 25 deserving students for the upcoming academic year. These scholarships aimed to eradicate the financial burden on the students and their families, ensuring that they could continue their education without financial constraints.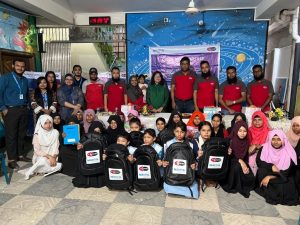 In addition to scholarships, the event also emphasized the importance of providing necessary educational resources to the students. r-pac and MASTUL Foundation collaborated to distribute free educational kits to the students. These kits included essential items such as books, pens, and pencils, enabling the students to have the necessary tools for effective learning. Furthermore, ninth-grade students were also gifted with scientific calculators, which would assist them in their scientific and mathematical studies.
The event also extended a warm welcome and attractive gift packs to the students who were preparing for their Secondary School Certificate (SSC) examinations. This gesture aimed to provide encouragement and support to the students during this crucial time in their academic journey. The gift packs served as tokens of appreciation for their hard work and dedication, motivating them to perform their best in the upcoming exams.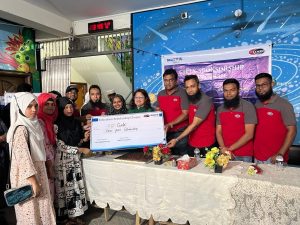 Overall, the event organized by MASTUL Foundation and r-pac was a testament to their commitment to female education and empowerment. Through the provision of scholarships, educational kits, and special recognition for SSC candidates, the event highlighted the importance of supporting girls in their educational pursuits.
By ensuring access to education and providing the necessary resources, MASTUL and r-pac aimed to empower these girls to reach their full potential, break barriers, and contribute meaningfully to society.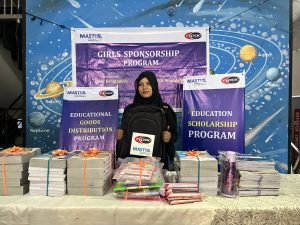 The collaborative efforts of MASTULFoundation and r-pac in organizing this event demonstrated their shared commitment to promoting education and women's empowerment.
It served as a platform to recognize and celebrate the achievements of the students and encourage them to continue their educational journey with confidence and determination. Through such initiatives, MASTUL and r-pac inspire hope and create opportunities for a brighter future for these deserving girls.