MASTUL Foundation celebrates the "Employee Appreciation summit" with a buffet dinner 
---
MASTUL Foundation
|
March 16, 2023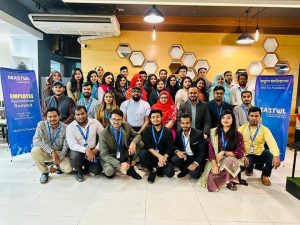 The mission of the MASTUL Foundation is to work for humanity.  Besides this, the vision is to establish a society where everyone can enjoy their fundamental rights. 
… And to imply this the employees and the workers of the MASTUL Foundation are playing a key role.  Through their merits and next grade of dedication, they are working to put a smile on the face of helpless people. 
The most satisfactory point is these dedicated employees are now engaging with more underprivileged people and communities from the field level. They are making surveys, collecting data, and taking required action to reduce their plight. 
Even MASTUL has a good reputation for ensuring quick responses to different national and international crises. And it becomes possible for these workers and employees, and proactive management. 
Therefore, to appreciate and encourage their overall activities the authorities of MASTUL organized an "Employee Appreciation summit". The program took place at Buffet Palace Dhanmondi. 
At the beginning of the program Founder and Executive Director Kazi Reaz Rahman shared his valuable speech. Also, he provided a "Formal Thanks and Appreciation Letter" to 5 employees for their tremendous performance. Apart from this, more than 3 employees got promotions to the next level. 
Overall, all the respected employees, workers, and staff got a massive level of inspiration and encouragement for their dedication.  After that, they started the Buffet party. Anyway, this was not only a party, an excellent way to make memories with MASTUL. Yes! It was the day for the MASTUL.