MASTUL Foundation celebrates volunteer reunion and certificate-giving ceremony
---
MASTUL Foundation
|
September 4, 2023
Today's Volunteers are tomorrow's leaders." With this motto as inspiration, the MASTUL Foundation proudly celebrates its volunteers' reunion and certificate award ceremony. The primary goal of this significant event is to motivate young individuals to participate in social activities. 
The MASTUL Foundation places a high emphasis on raising awareness about social development. Therefore, it is essential for young people to step forward and initiate positive change within their communities.
During this seminar,  enthusiastic youths were in attendance.  All of whom serve as dedicated volunteers for the MASTUL Foundation. In times of various crises such as floods, fires, or other natural disasters, these volunteers respond swiftly.  Always they extend a helping hand t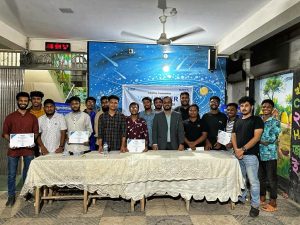 o the affected individuals on behalf of MASTUL. 
As part of the recognition, MASTUL provided the "Best Volunteer Certificate" to these young heroes. Esteemed officials of MASTUL also shared their valuable opinions regarding the importance of volunteering. 
The speech from Kazi Reaz Rahman, Founder and Executive Director of MASTUL Foundation was a massive grade of inspiration. He ignites the youths to maximise social engagement. He stated, " From student life, I was involved as a volunteer. Through these, I could reach many people, and places, and get a lot of experience. "
"Through volunteering you are not only helping society. Besides this, you are also uplifting your skills." He also added. 
The presented youth also shared their feelings about working for humanity as a part of MASTUL. Apart from the discussion session, there was also some cultural activities, a photo session, and refreshment.