MASTUL Foundation distributed sacrificial meats to almost 25 thousand people in need
---
MASTUL Foundation
|
July 5, 2023
Like every year, even this Eid-Ul-Azha MASTUL Foundation distributes sacrificial meats to almost 25 thousand people in need. The people with special requirements, orphans, widows, and lower-income grades from several areas get this mentioned assistance from this humanitarian organisation. 
The founder and Executive Director of MASTUL states "The main vow of Qurbani is to pleased our mighty creator. Yes! It teaches us the spirit of sacrifice. Therefore every Eid-Ul-Azha we arrange Qurbani for the helpless communities."
"The things become pleasing when we notice their happiness after getting the meats. Even we assist those modest families who feel uneasy to ask support from anyone. In this case, we ensure their privacy" He also added.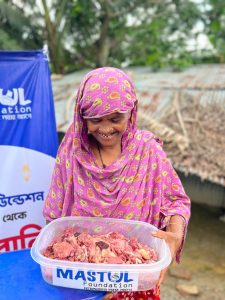 Mastul Foundation has organized Qurbani (sacrificial animal sacrifice) in various madrasas and shelter homes in Dhaka, as well as in Bholah, and Rangpur.  MASTUL also arrange Qurbani at a shelter home in Panchagarh that is run under the Department of Social Service. 
Mr Kamrul Islam Chowdhury, Director (Joint Secretary) of the Department of Social Services, expressed that the child families in Panchagarh were unable to collect any sacrificial animals this year. It causes disappointment among the children. However, MASTULl Foundation has once again supplied sacrificial animals for these orphaned children. I express my gratitude to Mastul Foundation on behalf of the Department of Social Services for their valuable contribution
Moreover,  MASTUL arranges Qurbani at flood-affected areas in Kurigram, Gaibandha's Char areas, Thakurgaon, Sunamganj, Netrokona, and several districts in the Barisal division of the southern region.