MASTUL Mehmankana – A special food bank
---
MASTUL Foundation
|
November 5, 2023
MASTUL Mehmankhana is a special food bank operated by the MASTUL Foundation. Its main vow is to arrange and distribute food for those people in need who struggle to satisfy their hunger. Typically, this food bank is a place of hope for the needy who strove due to poverty.
It is worth mentioning, that the charitable organisation MASTUL Foundation tirelessly works for humanity and feeding the needy is one of its mentionable agendas. Since its establishment, this humanitarian organisation has distributed food to street children, orphans, and helpless and homeless people.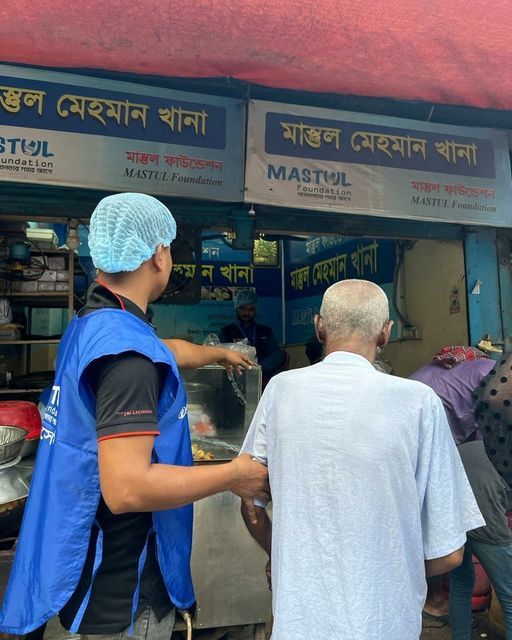 Since its formation, Mastul Mehmankhana has organised food for underprivileged communities. Everyday Hawkers, Rickhshawpullers, and day labourers can enjoy a modest meal here through a token system. Apart from these activities,  on different social and religious occasions, Mastul Mehmankhana cooks decent meals for the needy and at that time this foodbank witnessed a massive gathering of the beneficiaries.
To intensify this journey to fight against hunger, in 2019 MASTUL established a food bank named "Mastul Mehmankhana". The purpose of this landmark initiative was to make MASTUL's feeding program "Food For All"  more organised and effective way. 
Even the Mastul Mehmankhana organises food packs and the devoted volunteers take these food packs for distribution from street to street and door to door. Notably every Ramadan, Mastul Mehmankhana launches a project named "Iftar for All" for the underprivileged communities. This project runs the entire month of Ramadan.  Watch this: https://youtu.be/VtE-6C-3iv8?si=92GSxz902Z5iH4n_ 
On last Ramadan 2023, almost 75000 people from underprivileged communities enjoyed free iftar at Mastul Mehmankhana. Read more: Iftar for everyone – by MASTUL Mehmankhana