MASTUL Starts Free Oxygen Service for Corona Patients and the Poor
---
Mastul Foundation
|
April 23, 2021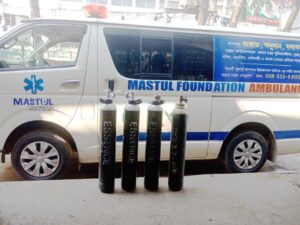 MASTUL Foundation has been providing free oxygen service to corona patients and underprivileged people from all around Bangladesh since the dawn of corona.
So far, over 240 corona patients have benefited from our free oxygen service. However, this was a service that MASTUL has been doing unofficially, and based on phone calls that come in seek of assistance.
Fortunately, Mastul is now fully equipped to provide the free oxygen service officially. If you or anyone you know is in need of oxygen supply or ambulance service then do not hesitate to contact MASTUL Foundation.
                                                  Call for ambulance and oxygen: 01833344074