MASTULFoundation Distributes Sewing Machines among Over a Hundred Widows
---
MASTUL Foundation
|
July 10, 2023
MASTUL Foundation, as part of its initiative to empower widows, has distributed sewing machines among more than a hundred self-reliant widowed women in Nagashwari Upazila of Kurigram district through the Zakat Self-empowerment Project.
Through an event held at Bidyutpara village in Nagashwari Upazila, the sewing machines were handed over to the widowed women.
Mohammad Saidul Arif, the Kurigram District Administrator, handed over the sewing machines to these vulnerable women as the chief guest of the event. Kazi Riaz Rahman, the founder and executive director of the MASTUL Foundation, presided over the event. The program was also attended by special guests, including Mustafa Zaman, the Upazila chairman, Farjana Jahan, the Upazila executive officer (UNO), and other members.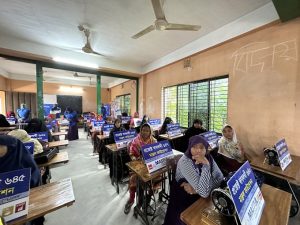 Mohammad Saidul Arif, the Kurigram district administrator, said, "We are working for the development of Kurigram with the assistance of the government. The initiative taken by MASTUL Foundation to empower widows and vulnerable women through the Zakat Self-Reliance Project is commendable. Although this initiative will only have a partial impact on poverty alleviation and income generation in society, it will still play a role."
Kazi Riaz Rahman, the founder and executive director of MASTUL Foundation, stated, "Through the proper distribution of Zakat funds received from donors, we are working for the improvement of the living standards of the underprivileged community in the country. InshaAllah, we hope to receive support from the government in the future."
Farjana Jahan, the Upazila executive officer (UNO), said, "Empowering women is essential for the development of society. The initiative of the MASTULl Foundation to empower widows and abandoned women through the Zakat Self-Reliance Project has impressed me. We stand beside MASTUL Foundation in this initiative. "