Md. Abul Khair Hiru, Deputy Registrar, Ministry of LGRD & Cooperatives went on a visit to MASTUL Mehmankhana 
---
MASTUL Foundation
|
April 19, 2023
Md. Abul Khair Hiru, Deputy Registrar, Ministry of LGRD & Cooperatives went on a visit to MASTUL Mehmanknana. The purpose of his landmark visit is to witness the activities of MASTUL's free iftar campaign for the underprivileged community  named "Iftar for All."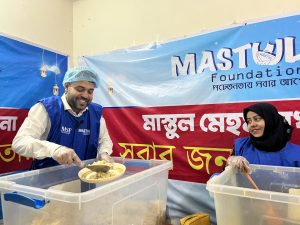 During his visit, the Mehmankhana team explained their overall activities towards him. He was very impressed with this kind of initiative.
"MASTUL Foundation is working for society in different aspects. Especially, this holy Ramadan, they are doing a very Nobel thing. I highly appreciate and deeply wish to expand these activities even more.  MASTUL also did a wonderful job at Newmarket and Bongobazar Tragedy." Said Mr Abul Kahir Hiru.
Also, he spent some quality time with the children of the MASTUL Orphanage Centre. Later he provide a sewing machine and wheelchair to some presented beneficiaries.