Students of MASTUL School get a distinctive idea regarding finance, savings, and Mobile Banking from Standard Chartered Bank 
---
MASTUL Foundation
|
June 26, 2023
MASTUL School organizes an event with Standard Chartered Bank to provide an initial experience regarding finance and the current currency system to its students. The program aims to educate and navigate the students about personal finance. Through this groundbreaking initiative, the students of MASTUL school get the chance to expose to various aspects of finance. Moreover, they get a crystal clear idea about budgeting, the ways of saving, and the effective process of investment. 
In particular, these young stars realize the importance of savings at an early age. Apart from this, Standard Chartered Bank also focuses on the significance of mobile banking in this digital era.  The students understand the convenience and security of mobile banking for seamless transactions.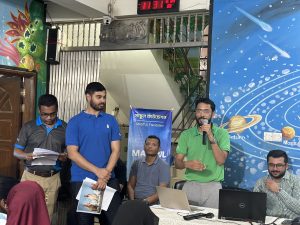 Beyond any conventional type of seminar, there were a lot of fun activities. The students enjoy the demonstrations that help to learn how to navigate mobile banking apps. Besides this, the funniest thing is there was a short-acting session. Through these, they get the idea of how the currency system begins. This program took place at MASTUL School premises. Respected officials of Standard Chartered Bank and the authorities of MASTUL Scholl were prested at the program.