Za 'n Zee organized Spectacular Ice Cream Festival at MASTUL School
---
MASTUL Foundation
|
July 17, 2023
Za 'n Zee, the renowned ice cream brand organized an extraordinary ice cream festival at the MASTUL School premises. Apart from, ice cream distribution, the little angles of MASTUL School also witnessed a lot of fun activities. Especially, the lovable Mascots were the key attraction of these kids, and spend a playful time all day with these Mascots. 
Besides this, there was also an arrangement for the exciting art competition. The target was who can draw wonderful ice cream. The winners got a lot of attractive gifts, especially, the miniature of cricket bats signed by the renowned cricketer Shakib Al Hasan. Moreover, there were a lot of fun games. Like the mentioned segments, students also enjoyed the basketball throwing competition. The performer who can reach the ball on the net got a fabulous pen.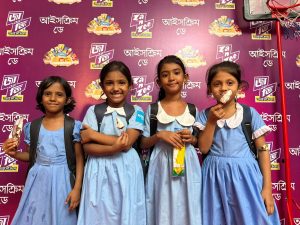 The festival was a resounding success. The school premises transformed into a vibrant carnival, with colourful decorations and an atmosphere filled with joy and laughter. However, it is worth mentioning that this school is run by the humanitarian organisation MASTUL Foundation. Ensuring a quality education for marginalized students is the main vow of this institution. 
The respected officials of MASTUL and Za 'n Zee were presented at the event. The honourable AGM of Za 'n Zee Mr Rajib Saha highly praised the overall activities of the MASTUL Foundation, especially, the MASTUL School. "Apart from quality education, students also need several creative activities. Therefore, we have organised this unique endeavour for the little angles of MASTUL school. Because we want to ensure a better future for them". He said. 
Overall, this ice cream festival was a massive success and worked as a mental refreshment for the students of MASTUL School.